Bosko was very successful for Warner Bros.' Looney Tunes series. He appeared in a total of 39 short films.  Things seemed to be going great until 1933.   Hugh Harman and Rudolf Ising negotiated with producer Leon Schlesinger for more money so that they could improve the quality of their cartoons, and make them in color.  Schlesinger, who was notorious for wanting to spend as little money on the creation of cartoons as possible, refused their requests.
Ultimately, the two men decided to leave.  Since they owned the rights to Bosko, they took him with them.  Having learned a lesson from their former boss Walt Disney losing the rights to use Oswald the Lucky Rabbit, they created Bosko in 1929 and copyrighted him so that in case they lost a job, they would not be screwed out the characters they created.
Schlesinger had to start over.
He convinced several animators from rival studios to come to him.  One of them was Tom Palmer who created Buddy and directed the first two Buddy cartoons.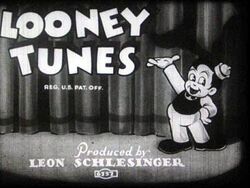 However, the cartoons were so poorly received that Palmer was fired and Friz Freleng was hired to re-edit them into one.  This resulted in the cartoon called Buddy's Day Out.
Buddy appeared in 23 cartoons in total.  Like most cartoons of the time, they were dominated by music.  Buddy, however, was considered to be a very boring character with no personality; that opinion is still commonly held among many classic animation fans and animation historians, though there are some dissenting voices.  Buddy was viewed as a rip-off and more specifically, a white version of Bosko; in fact, Warner Bros. animation director Bob Clampett went on record as saying that Buddy was "Bosko in whiteface."
There was the need to create a new better character.  Friz Freleng made the Merrie Melodies series cartoon I Haven't Got a Hat in 1935 which introduced several new characters to hopefully be a replacement for Buddy for the Looney Tunes series.  They included Porky Pig, most famously, and Beans the Cat, who became the new star of the Looney Tunes until he was supplanted by Porky.
Before being dropped, Buddy appeared in a Merrie Melodies short called Mr. and Mrs. Is the Name which was directed by Friz Freleng.  He and his girlfriend Cookie were depicted as merpeople, and this was his only appearance in a color short.  However, the character's names are never given, and therefore, some people dispute whether or not the characters truly are Buddy and Cookie.
Buddy was never seen again until the 1950s when his cartoons began airing on television.
He made a new apperance in the 1990s series, Animaniacs in the episode "The Warners' 65th Anniversary Special."  Within the show's fictional universe, the Warner siblings of Yakko, Wakko, and Dot were created to make Buddy's cartoons more interesting.  They consisted of the Warners constantly hitting Buddy over the head with mallets.  Finally, Buddy was dismissed, and he became a nut farmer in Ojai, California.  Buddy was furious at the Warners for ruining his career, and he plotted to destroy their anniversary special.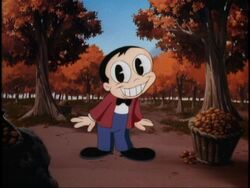 Buddy also was seen on the show on  PBS called History Detectives, in the form of animation cels.